Description - iOS app / Synthetic Healing Sounds
Synthetic Healing Sounds / Free of charge!

"Synthetic Healing Sounds" is a ASMR healing sound app that has the right relaxing sound on your living, bedroom and working space.
In addition, Binaural beat can be produced with mixing base sound at the same time. It can control by the mixing parameters. For example, please try it out if the ambient sound is loud and you can not concentrate on the work or the study or if you can not sleep.
Find the relaxing sound like a meditation sound to deepen your healing sense even further
Sound playback can be stopped at your desired time with a timer. It can also be used as a sleep timer.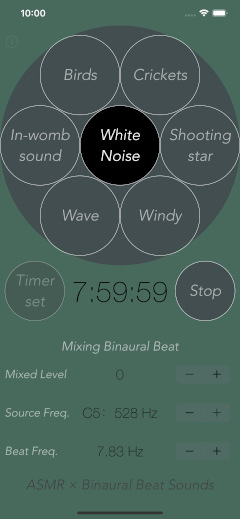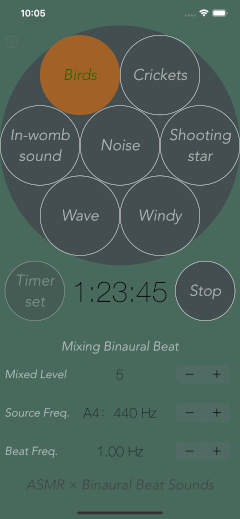 Products Information
Version : 2.0

Released : November 19, 2019. UTC

Size : 3 MB

Category : Life Style, Health & Fitness

Recommendation : Requires iOS 12.4 or later.
Features
"Synthetic Healing Sounds" has the following features:
ASMR Healing Sounds generation

Binaural Beat generation and mixing.

Simple UI

Playback timer from 1 minutes up to 8 hour.
Sounds
"Synthetic Healing Sounds" has the following sounds:
# Base Sounds

Birds: Chirping of birds

Crickets: Sounds of insects

In-womb sound: Heart beat, Tap the button to change the tone.

Noise (White, Pink, Brown, Blue, Purple noise): Each time pressing Noise button, it switches in the order of white, pink, brown, blue and purple noise.

Shooting Star: Sound of meteor shower

Wave: Sea wave sound. Tap the button to change the tone.

Windy: Wind sound
# Mixing Binaural beat

Binaural beat sounds are mixed with Base sound.

Sound mixing level: 0 - 10

Source frequency: Just intonation musical scale (C4 - C5), Solfeggio scale (396Hz, 528Hz)

Modulation frequency: 0.5 - 13.5Hz, 7.83Hz - Schumann resonance)
Top view
At launch this app for the first time, the top view will be displayed.
Seven buttons in the upper area are selective playback buttons for each base sound sources. In the center, there are "Timer set" button, a timer display, and "Stop" button. The lower area is the "Mixing Binaural Beat" settings, where it can set "Mixed Level", "Source Freq" and "Beat Freq". p>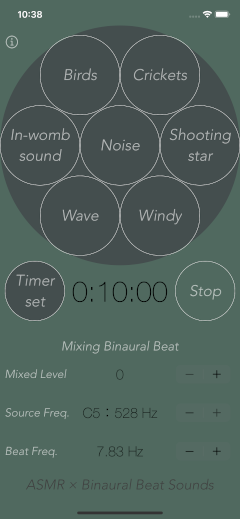 Play & Stop
There are seven sound playback buttons for each type of sound sources, and you can directly select a sound source.
By tapping a button of other sound source during playback, you can play it soon. The sound will be stopped by tapping "STOP" button.
If you tap the same button again, the generation parameters of that sound source is changed. "Noise" button changes in the order of "(white noise) -> (pink noise) -> (brownian noise) -> (blue noise) -> (purple noise)".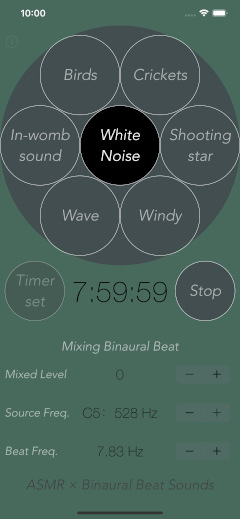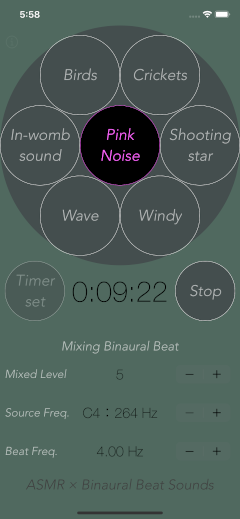 Binaural beat
Binaural beat sound has a hypnotic effect with a slight frequency difference in the sound of left and right channels.
This app can mix and output our proprietary Binaural beat to the base sound.
Binaural beat can be finely adjusted by the mixing parameter setting.
"Mixing Level" adjusts the playback level of binaural beats.When set to level 1-10, Binaural beat is mixed and output. However, at level 0, Binaural beat is not output.
"Source Freq" adjusts the fundamental frequency of Binaural beat. It can be set in the range of the just intonation musical scale C4 to C5.
"Beat Freq" adjusts the modulation frequency of Binaural beat. It can be set in the frequency range from 0.5Hz to 13.5Hz.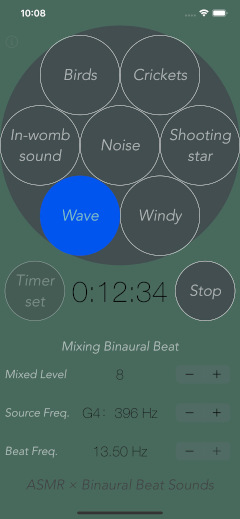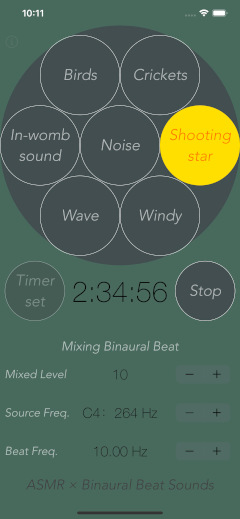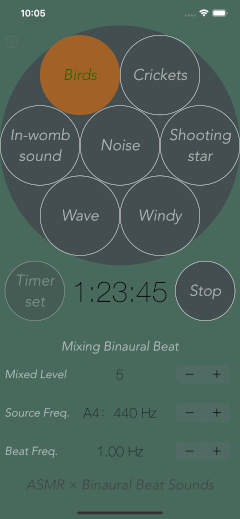 Timer
The timer sets the sound playback time. Tap the "Timer Settings" button to display the timer settings. The default is 10 minutes and can be set in 1 minute increments up to 8 hours. Tap "Timer set" button again to return to normal screen.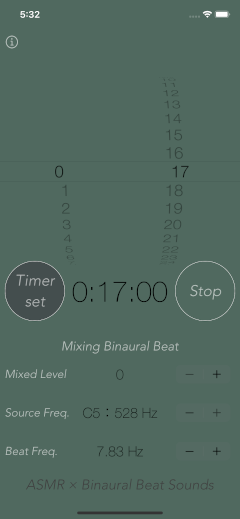 Info
Tap "i" button, it will be displayed on the product information and usage.
Tap "Support/Information" button, Safari starts and you can see our support page. Tap "i" button again, it returns to the top view.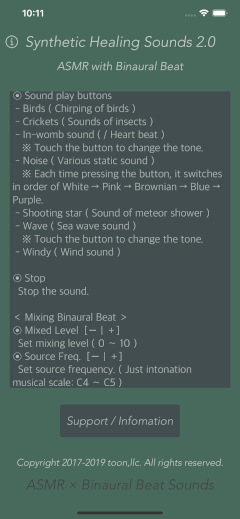 Release Note
Version 2.0 was released on November 19, 2019. UTC

Version 1.2 was released on September 11, 2018. UTC

Version 1.1 was released on August 17, 2017. UTC

Version 1.0 was released on July 25, 2017. UTC
Note
Binaural beat is a sound effect between both ears, so you need to listen with headphones or earphones.

Even if you do not feel that the continuous high-volume playback sound is too large, it may affect your hearing ability. Please be careful about volume adjustment when using with earphones.

If the silent mode is turned on, all iPhone sound outputs are disabled. To enable the sound output, please be sure to turn off the silent mode in the iPhone' settings, "Settings/Sounds" or Control Center.

ASMR is an abbreviation for Autonomous Sensory Meridian Response.

Return to Top